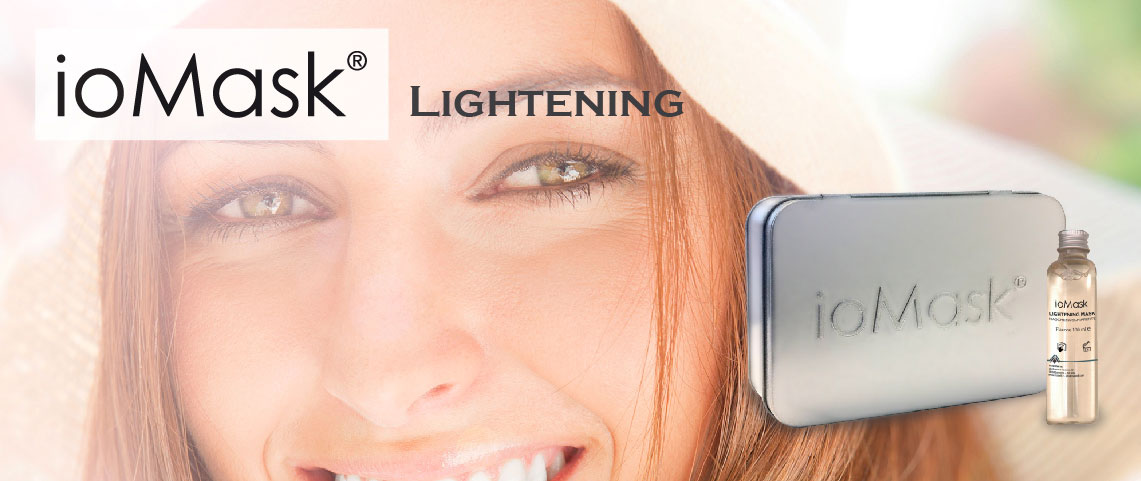 ioMask® Lightening is a lightening nucleotide and α-arbutina cosmetic treatment for dark spots on face and neck.
ioMask® Lightening is a nonwoven fabric α-arbutin tablet mask in an expandable pad to be soaked in active serum for single use on face and neck for a lightening effet. This safe effective tested product is designed to reduce hyperchromic skin spots. It also contains highly purified nucleotides of natural origin to ensure functional cosmetic skin improvement. ioMask® Lightening complements out-patient medical treatments (chemical peeling, laser, etc).  It can be applied immediately after external treatment or at home as an adjuvant for a bleaching product, as needed.
aqua, methylpropanediol, sorbitol, laureth-9, alpha-arbutin, caprylyl glycol, ethylhexylglycerin, sodium DNA, sodium RNA, disodium EDTA.
Perfume Free – Alchool Free
For effective lightening, the mask should be used at least once a week.
Apply on clean face.
Pour 20 ml of product in the small bowl (fill to lower rim)
Dip the tablet mask without unfolding it in active serum until it is completely absorbed
Unfold the tablet mask and apply carefully on face and neck, so that it clings to skin
Keep mask on face for 10-15 minutes, then remove gently.No rinsing required
Warnings
Once the tablet mask has soaked up the serum, it must be applied and discarded after use.
Keep out of the reach of children. Keep package well closed and store away from light and heat. Do not discard in the environment after use.
Do not apply this mask on lesions or infected or inflamed areas of skin. Do not apply in case of known hypersensitivity to ingredients.